YI 1080p Home Camera quick installation guide
1. Camera Kit
Includes: YI 1080p Home Camera, Adaptor, USB Cable, Manual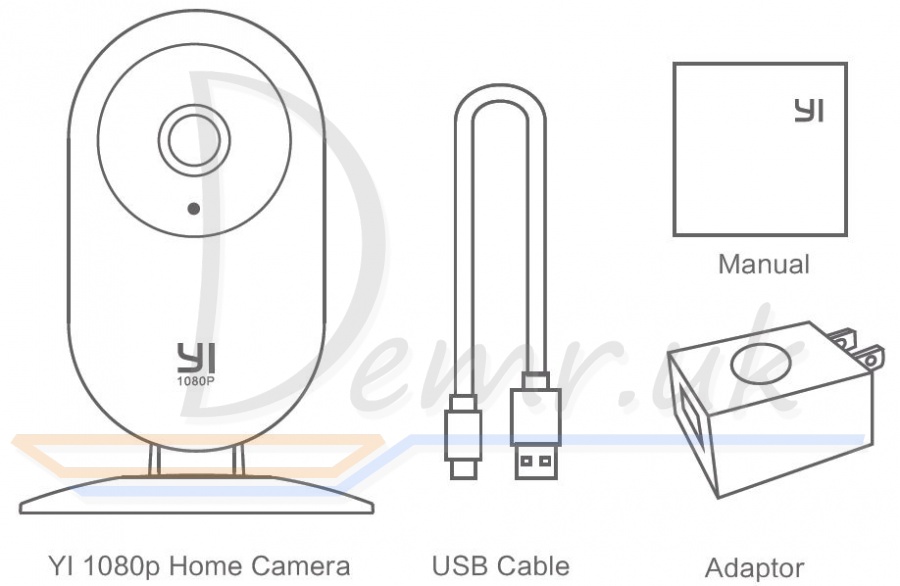 2. Get to know the Camera
Note: To enable local recording of video clip, please insert a Micro SD card* (not included) to the slot as shown below.
*support minimum of 4GB up to 32GB Micro SD card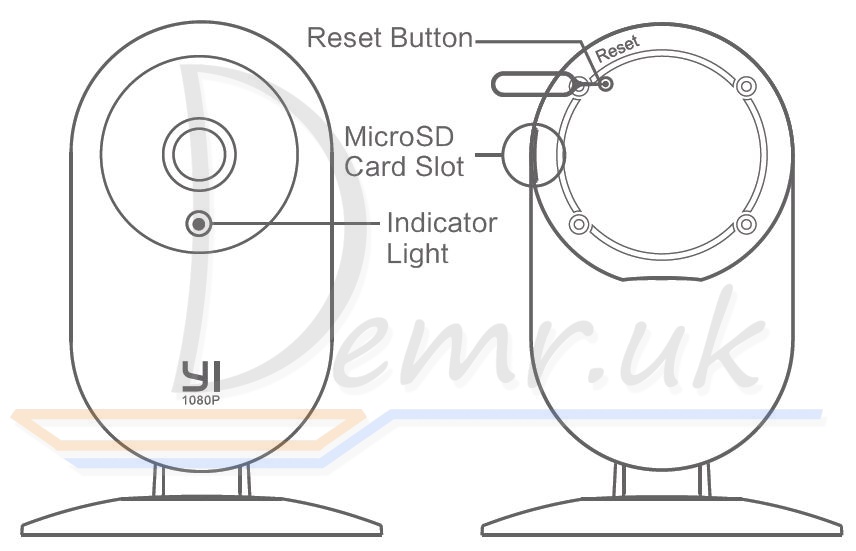 Reset button. To launch the camera, press and hold the start button until the indicator lights yellow.
3. Download the APP
Download the app by searching "YI Home"on the App Store or Google Play. Alternatively, you can open a QR scanner app and scan the YI Home app QR code below to install the app.
Follow the simple setup instruction on the app. You can configure multiple cameras one at a time.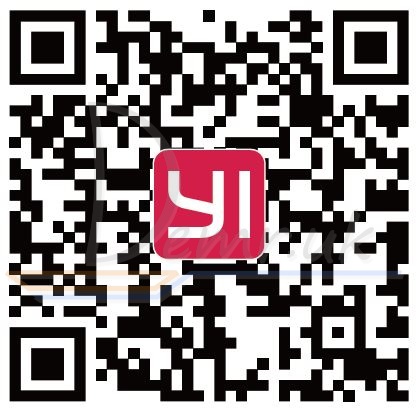 4. Connecting the camera to a phone
Place the camera close to the router, and make sure Wi-Fi access is available, then connect the cable to the Micro USB port on the back of the camera to the power outlet as shown.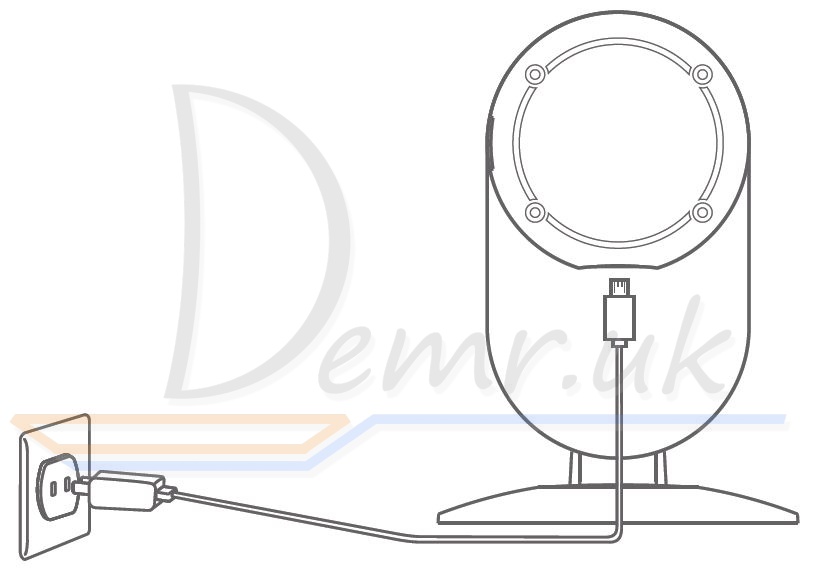 1. To connect the camera to home screen, touch adding badge «+» in the upper right corner.
2. Follow simple instructions to configure the application. You can set up multiple cameras one at a time.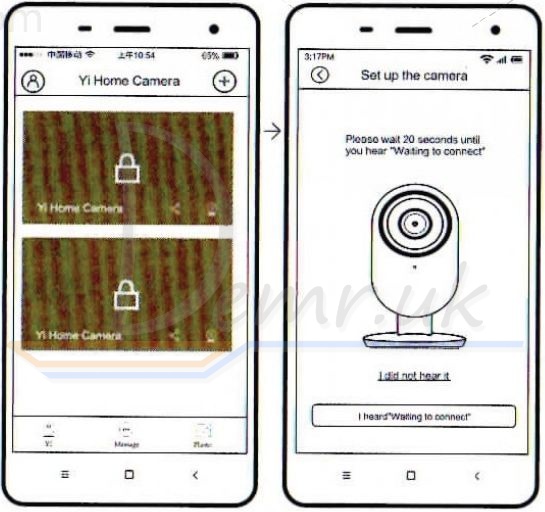 5. Preview Live Footage
Use the YI Home app to watch live footage on your phone. You can also record and save videos or images.
Attention: It is illegal in many jurisdictions to record an audio conversation without the consent of all individuals. Please comply with all laws when using your YI 1080p Home Camera.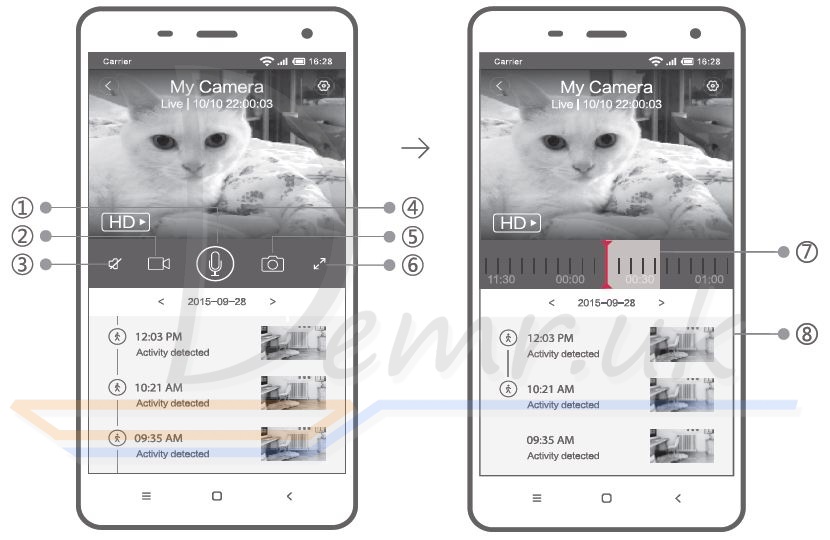 1 – Hold to talk
2 – Record Videos
3 – Mute
4 – Show timeline
5 – Take photos
6 – Full screen
7 – Playback history
8 – Alerts
6. Switch Wi-Fi Networks
When you need to switch Wi-Fi networks or update your Wi-Fi password, follow the instructions below:
1. Use a clip to press the reset button on the back of the camera, and wait until the yellow light comes on.
2. Open the YI home app on your phone, and connect the camera to your phone again. Your videos stored on your MicroSD card will not be affected.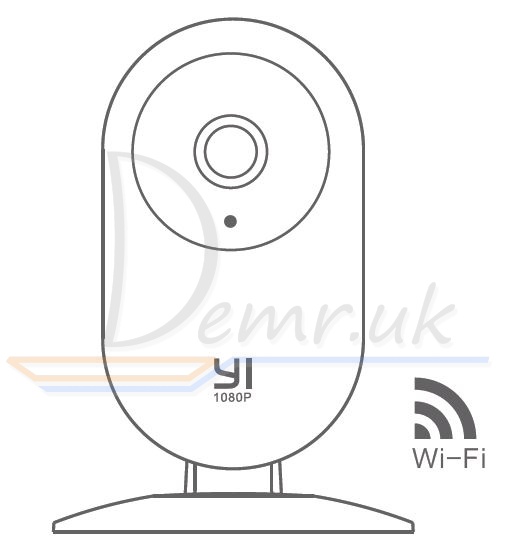 Read also
Sricam IP Camera - User Manual