SOUNDPEATS True Air 2 - User Guide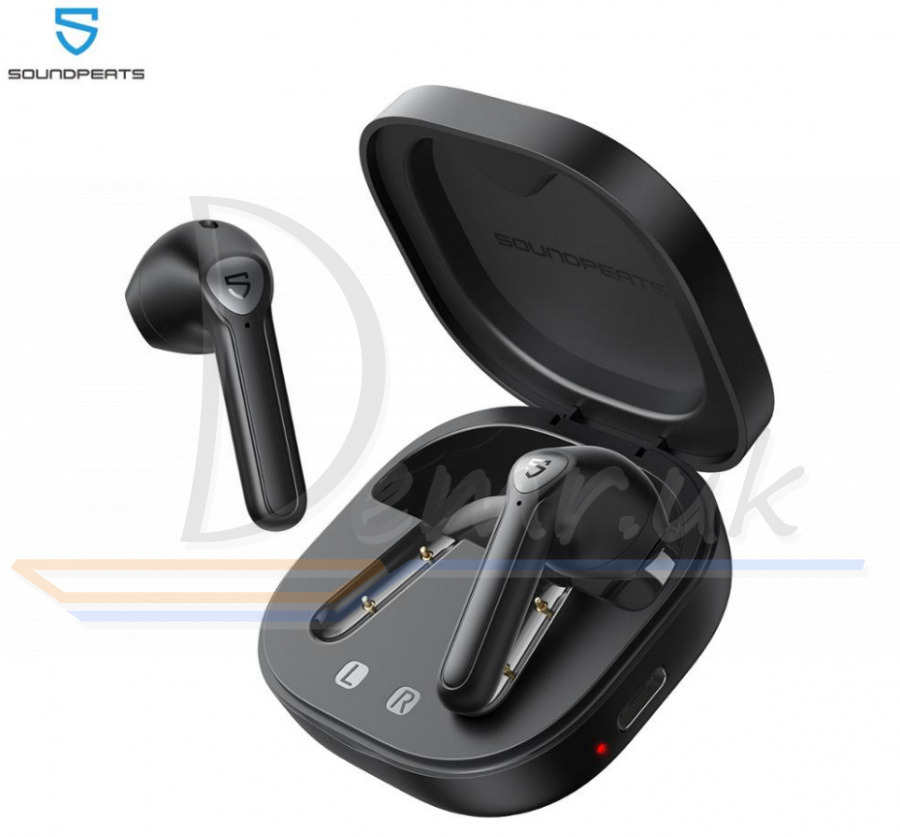 Package Content - SOUNDPEATS True Air 2 Earbuds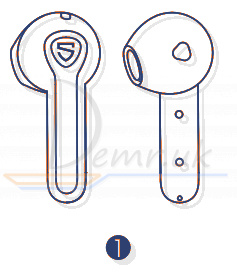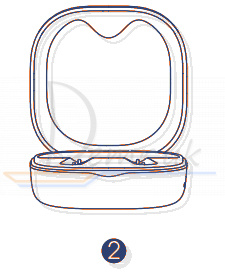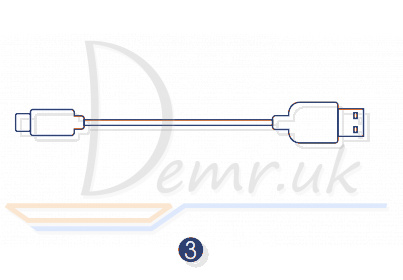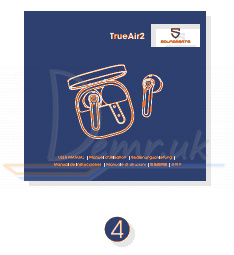 1 - SOUNDPEATS True Air 2 Earbuds
2 - Case
3 - USB cable
4 - Manual
Specifications - SOUNDPEATS True Air 2
Bluetooth Version Bluetooth 5.2
Bluetooth Chip Qualcomm® QCC3040
Maximum Working Range 33 feet / 10m (no obstacle)
Play Time 5 hours (volume at 60%)
Earbuds Charging Time 1.5 hours
Case Charging Time 1.5 hours
Charging Case Recharge Earbuds 4 times
Earbud Dimension 1.54*0.70*0.64 in / 39.2*17.7*16.2 mm
How to control SOUNDPEATS True Air 2 Earbuds
Left earbud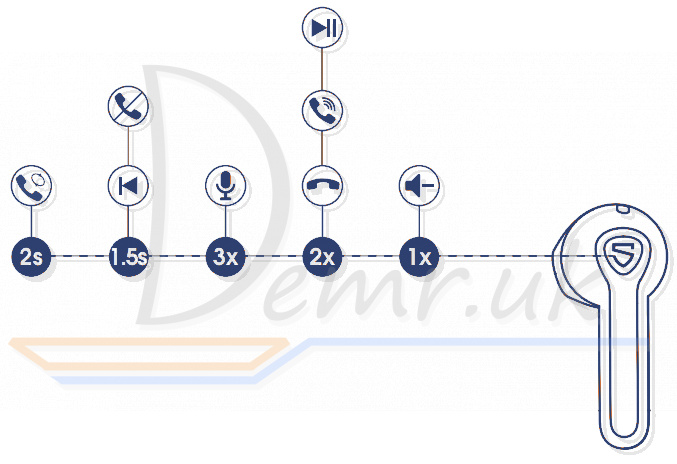 Right earbud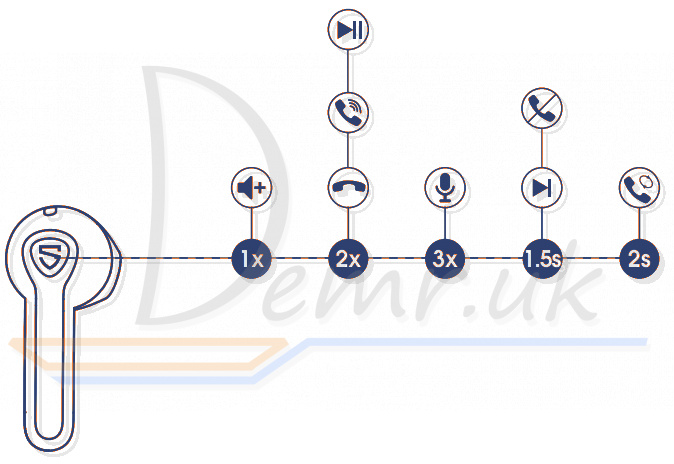 Button Control
Power On
Auto: Take out from charging case
Manually: Press and hold the MFB for 1.5s

Power Off
Auto: Place back into charging case
Manually: Press and hold the MFB for 10s

Play / Pause
Double tap the MFB

Volume -
Single tap the le MFB

Volume +
Single tap the right MFB

Previous Track
Press and hold left MFB for 1.5s

Next Track
Press and hold right MFB for 1.5s

Answer / Hang Up Phone Call
Double tap the touch button

Reject Phone Call
Double tap the touch button

Switch Between Two Calls
Press and hold the MFB for 2s

Manually Enter Pairing Mode
Press and hold the MFB for 6s

Activate Voice Assistant
Triple tap the MFB
Wearing - SOUNDPEATS TrueAir2 Earbuds
1. Identify the left and right earbuds.
2. Rotate SOUNDPEATS True Air 2 earbuds to find most comfortable angle.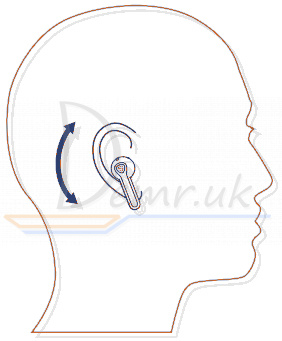 How to connect SOUNDPEATS True Air 2 earbuds to the phone
1.Take both SOUNDPEATS True Air 2 earbuds out of the charging case while the case is with enough power left, the left and right earbuds will pair to each other at first with a prompt suggests successfully connected. After this, the left indicator will turn white, and right indicator flashes in red and white alternately with a voice prompt "Pairing" indicating the earbuds enter pairing mode.
2.Activate the Bluetooth on your device and choose "SOUNDPEATS TrueAir2" to connect. The right indicator will stop flashing with a voice prompt "Connected".
3.SOUNDPEATS TrueAir2 earbuds can remember previously paired device. To reconnect to one device, you only need to activate the Bluetooth in the device and take out both earbuds, the earbuds will automatically connect to each other, and then pair to the device. If they don't re-pair automatically, please choose the pairing name to connect again.
4.Mono mode: TrueAir2 earbuds support working with either earbud only after successfully connected.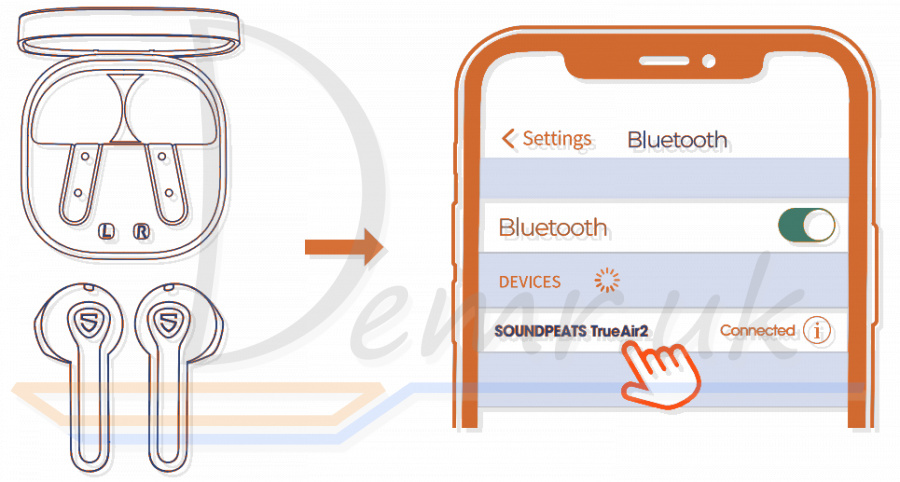 Factory Reset - SOUNDPEATS True Air 2 Earbuds
(Try the following steps if you fail building connection between two earbuds, or between earbuds and device.)
1.Clear the pairing record between the earbuds and all your devices.
2.Place back both earbuds and make sure they are in charging status. Press and hold both MFBs for 10 seconds until both indicators flash in white twice.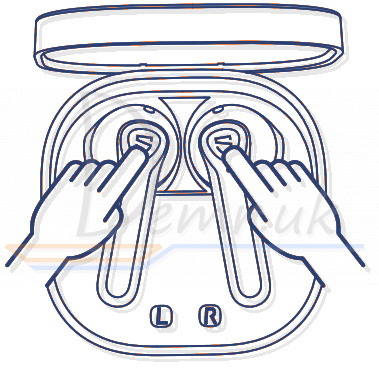 Charge - SOUNDPEATS True Air 2
SOUNDPEATS TrueAir2 earbuds are provided with a charging case for easy carrying and charging. It can recharge both earbuds for around 4 times.
Charge the earbuds
1.Place back the earbuds in right charging slots and make sure the contactors connect.
2.Charging starts with red indicators staying on, and ends with red indicators going out.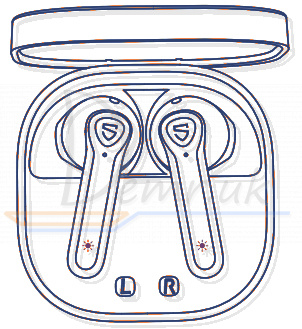 Charge the case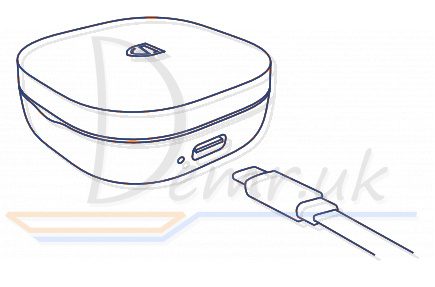 The charging indicators don't stay on red after placing back the earbuds, please charge the case then.
1.Use a Type-C adapter to charge the case (current not over 1A). The LEDs stay on red while charging, and go out after fully charged.
2.Please charge SOUNDPEATS True Air 2 earbuds and case at least once per 3 months when not in use for a long time.
Read