Huawei FreeBuds 4 Headphones - User Guide. Review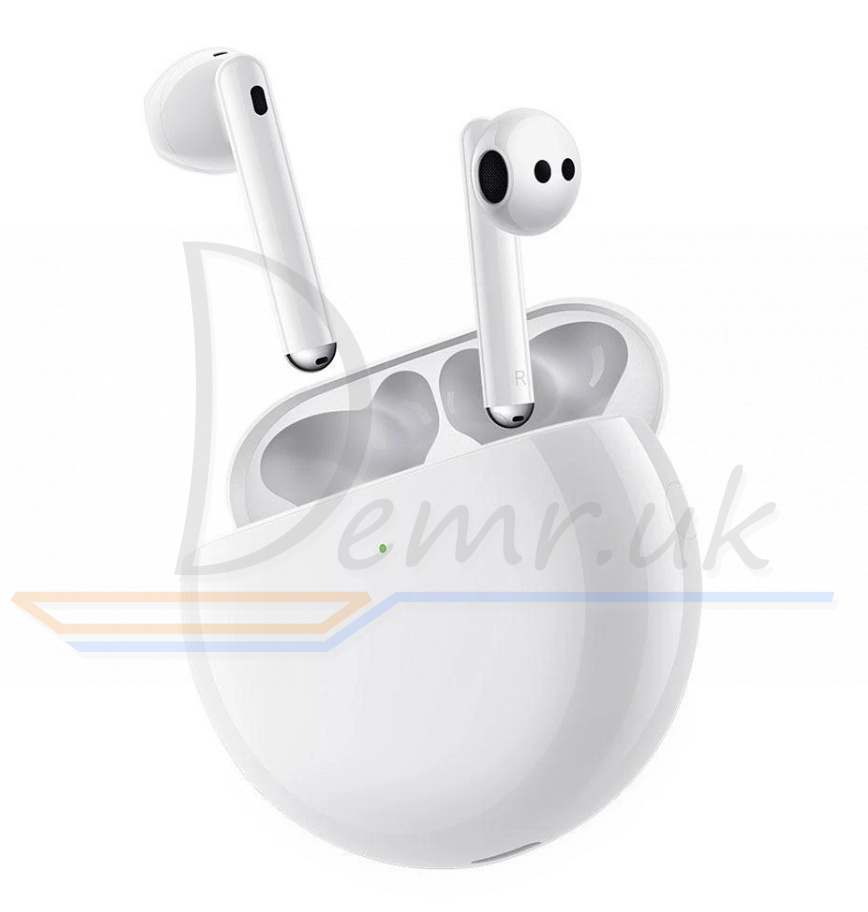 In The Box
Huawei FreeBuds 4 Earbuds
Charging case
Quick Start Guide, Safety Information, and Warranty Card
Warranty certificate
USB-C cable
Advantages of Huawei FreeBuds 4 Wireless Earbuds
✓ High-Resolution Sound. Each earbud is equipped with its own bass-enhancing power engine for greater diaphragm vibration, generating impressively deep bass you can really feel.
✓ Swipe Controls
✓ Open-fit Active Noise Cancellation 2.0. The open-fit design allows air pressure to stay equalised, while ensuring important environmental sounds can still be heard — for a safer, more comfortable wearing experience even after long hours of use.
✓ Intelligent Audio Connection
✓ Air-like Comfort
How to connect Earbuds to a Phone
Pairing mode: Open the case. Press and hold the button for 2s until the indicator flashes white.
Huawei FreeBuds 4 earphones will automatically enter Pairing mode when powered on for the first time.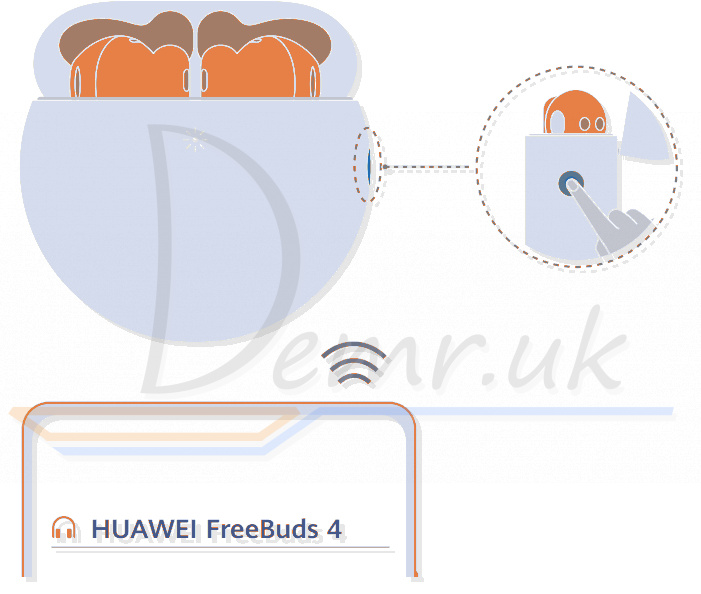 Factory reset
Open the case. Press and hold the button for 10s until the indicator flashes red. Huawei FreeBuds 4 earphones will enter Pairing mode again.
How to control Huawei FreeBuds 4 Earbuds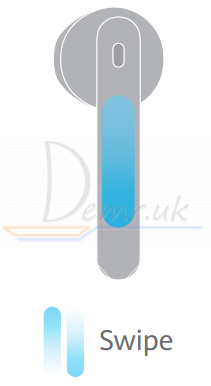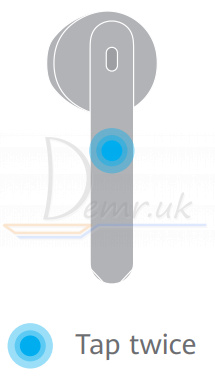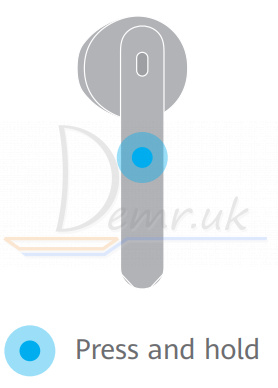 Adjust volume: Swipe up or down.
Play/Pause music: Tap twice.
Answer a call/End a call: Tap twice.
Reject an incoming call: Press and hold.
Enable/Disable noise canceling: Press and hold.
Download and install the app
Scan the QR code to download and install the HUAWEI AI Life app to try more features and customize your earphone settings.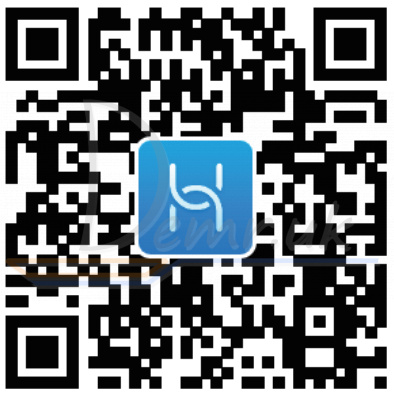 How to charge
Charging the earphones
Place Huawei FreeBuds 4 earphones in the charging case and close the case. They will start charging automatically.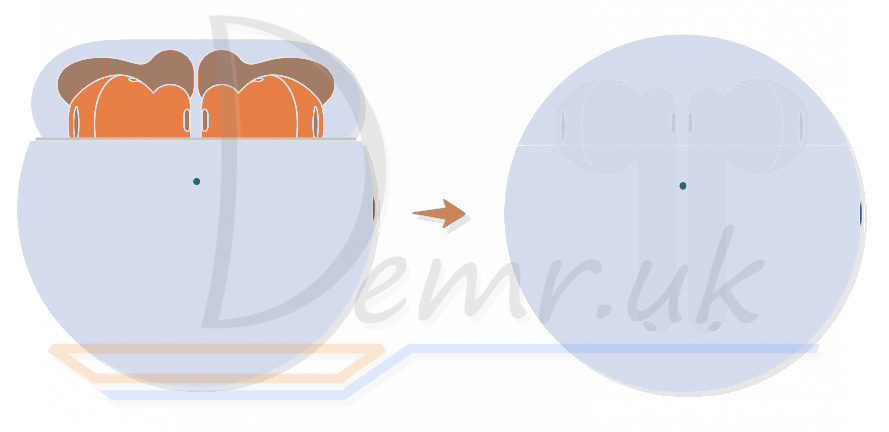 Charging Time: About 1 hour for the earbuds (in the charging case).
Charging the charging case
Use a USB-C cable to charge the charging case.
Wireless charging
Place the case with its indicator facing upward.
Align the center of the charging coil with the center of the charger.
The charging indicator will be steady on.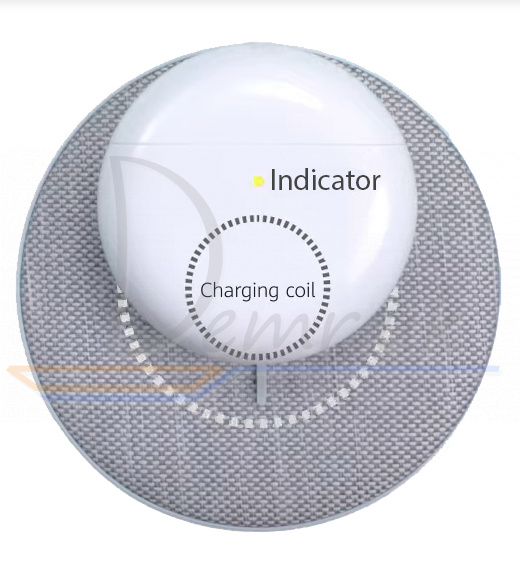 Huawei FreeBuds 4 Specifications
Size: Height: 41.4 mm
Width: 16.8 mm
Depth: 18.5 mm
Weight: about 4.1 grams
Processor: Huawei Kirin A1
Control: Headphone – double tap/long press/swipe, Charging box – button
Audio Technology: Dual-microphone hybrid active noise reduction, 3-microphone fusion call noise reduction
Sensor: Microphone sensor, wearing detection sensor
Battery: Headphones: 30 mAh, Charging case: 410 mAh
Bluetooth: 5.2
Sound: 14.3 mm
Waterproof: IPX4
Huawei FreeBuds 4 colors: White, Silver, and red colors.
Read also
Ring Stick Up Cam Battery (3rd Generation) Wi-Fi IP Camera - Manual