Top 6 Best Solar Powered Smart Wireless Security Cameras 2023
1.

Reolink Argus Pro with SP Solar Powered Smart Camera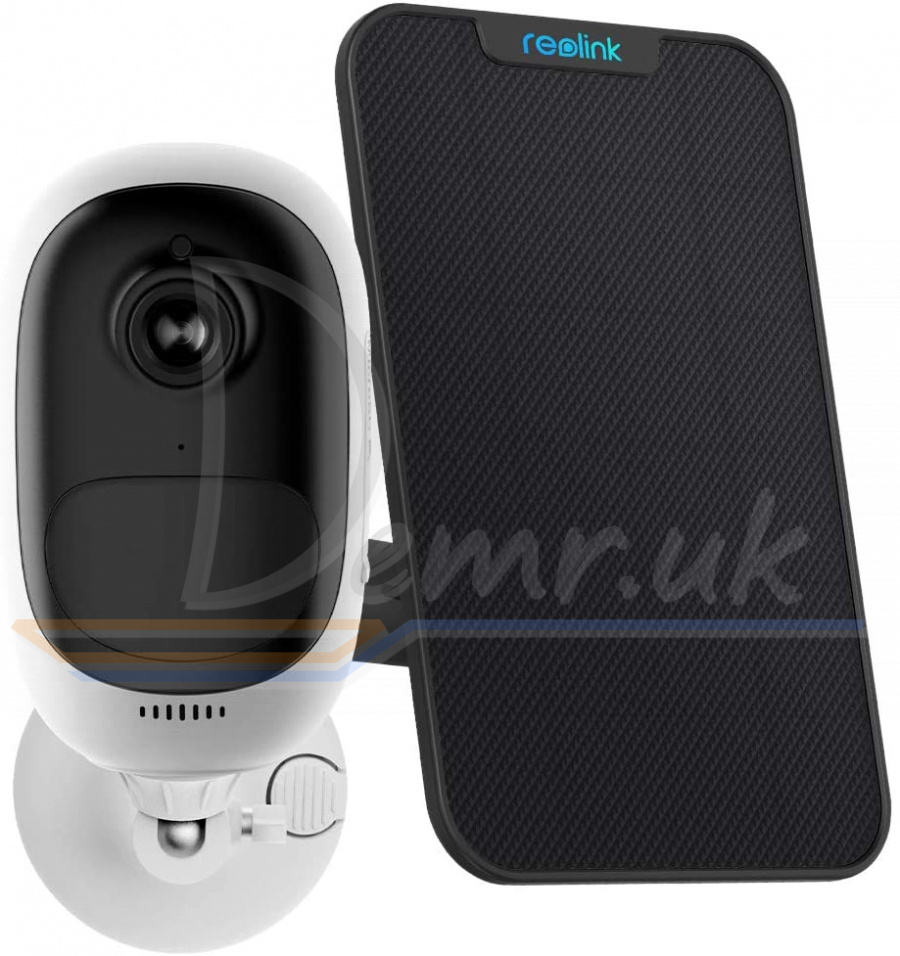 Benefits of Reolink Argus Pro with SP Wi-Fi Camera
✓ Motion Detection and Smart Alarms. With built-in PIR motion sensor, the camera reduces false alarms caused by rain, insects, fallen leaves etc. You can adjust the sensitivity and set up a schedule to have better monitoring and get siren, email alarms and push notification in real-time upon any triggered Motion Detections.
✓ Easy Installation-WiFi Connection, Waterproof. With the 2.4GHZ WiFi connection and IP65 waterproof certification, you can flexibly install this wireless camera indoor or outdoor. The self-explanatory setup will be finished within minutes, even with English voice guidance.
✓ Remote Live View and Playback, 2-Way Audio. Built-in micro SD card slot, which allows up to 64GB micro SD card (Not included) to achieve local recording. With 2-way audio, no matter you are at work, on holiday or on the way, you can see, hear and speak to families and pets or warn off intruders right through your Reolink App or Client.
✓ Full HD 1080P, 33ft Night Vision. With 1920x1080 resolution, the surveillance camera captures sharp and bright videos. Built with starlight image sensor and infrared lights, it can see up to 33ft night vision. Do not miss any details day and night.
✓ Self-Sufficient Wireless Battery Camera Kit. Coming with a Solar panel and rechargeable battery, the wireless camera Argus Pro can be charged by Reolink Solar Panel for non-stop power or universal 5V 2A phone adapter. You can install it anywhere you like. (Solar Panel is included).

Read more about Reolink Argus Pro with SP (reviews, specifications, buy):
2.

Ring Stick Up Cam (+solar panel) Solar Powered Wi-Fi Camera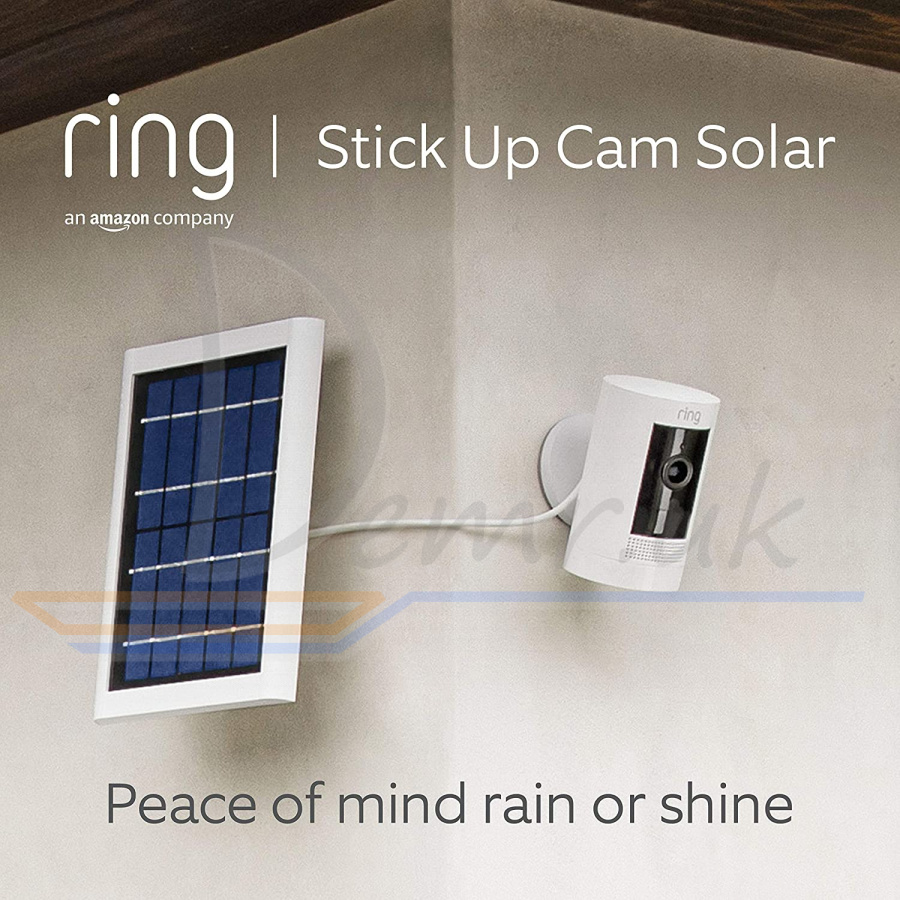 Benefits of Ring Stick Up Cam (+solar panel) Smart Camera
✓ Get notifications whenever motion is detected by adjusting your Motion Detection settings.
✓ Comes with Solar Panel to provide a continuous charge.
✓ Place it anywhere: indoors or outdoors, on flat surfaces or mount it to a wall.
✓ Watch over your entire home by connecting one or multiple Stick Up Cams to all of your Ring devices in the Ring app.
✓ With Live View, you can check on your home any time through the Ring app.
✓ See, hear and speak to people and pets from your phone, tablet or select Echo device with Stick Up Cam Solar, a solar-powered camera that brings peace of mind rain or shine.
✓ Easily set up your Stick Up Cam in just a few minutes.

Read more about Ring Stick Up Cam (+solar panel) (reviews, specifications, buy):
3.

Reolink Go+SP Wi-Fi IP Camera equipped with a solar panel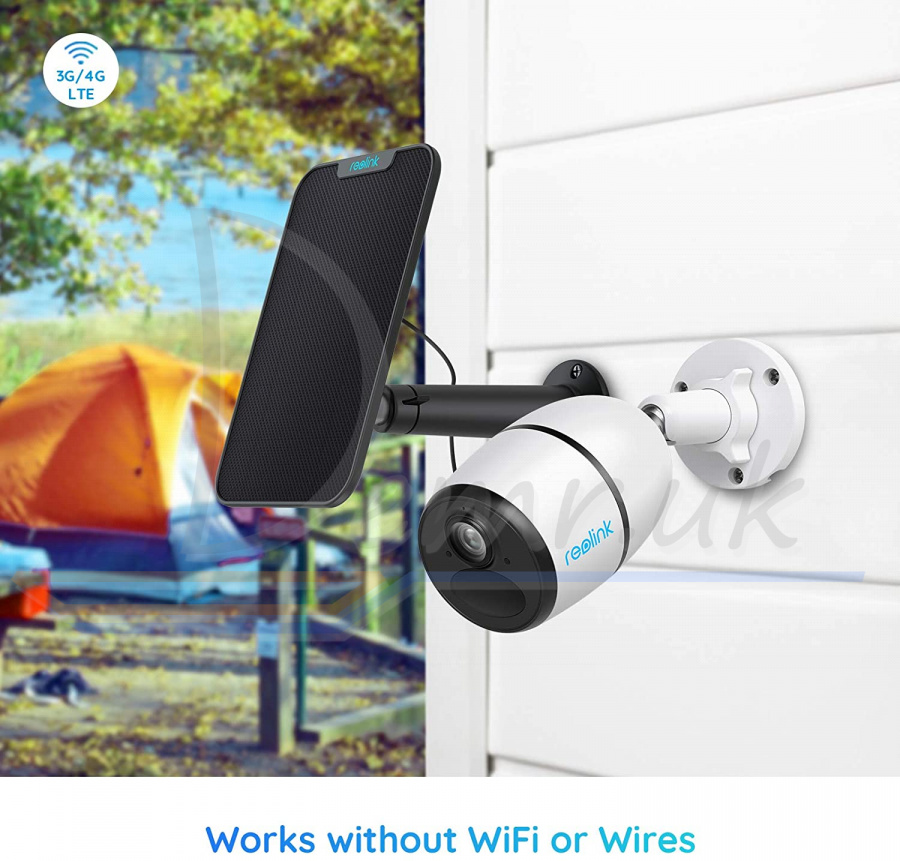 Main benefits of Reolink Go+SP IP Camera
✓ 1080P Full HD, Starlight Night Vision. 1080P Full HD and 110° wide field of vision. With the advanced starlight technology 2 megapixels Starlight CMOS Image Sensor, this wireless camera captures even the smallest details in very low light conditions.
✓ Reomote Access,2-Way Audio. You can remotely access the camera anytime and anywhere to see, hear and even talk to your families or postmen. Operating multiple devices on the same app and multi-user sharing are also available.
✓ 4G-LTE or 3G Networks Anywhere. Reolink Go, a 100% wire-free mobile cellular security camera, operates on 4G-LTE or 3G networks. Needs a cellular data plan or a LTE sim card to work together (SIM Card is not Included).
✓ Rechargeable Battery or Solar Powered. With a 7800mAh rechargeable battery, this wireless camera can get long lasting power per charge via Micro USB, or Reolink Solar Panel (included).
✓ Smart and Instant Motion Alerts. You can receive instant app push, email alerts, 75dB siren, customized sound alarms and micro SD card recording (micro SD card is NOT included), when motion events are detected by the highly sensitive PIR motion sensor.

Read more about Reolink Go+SP (reviews, specifications, buy):
Read also
▶ How to use Reolink Go Camera. Specification, Installation...
4.

Ctronics S20 Wi-Fi Camera equipped with a solar panel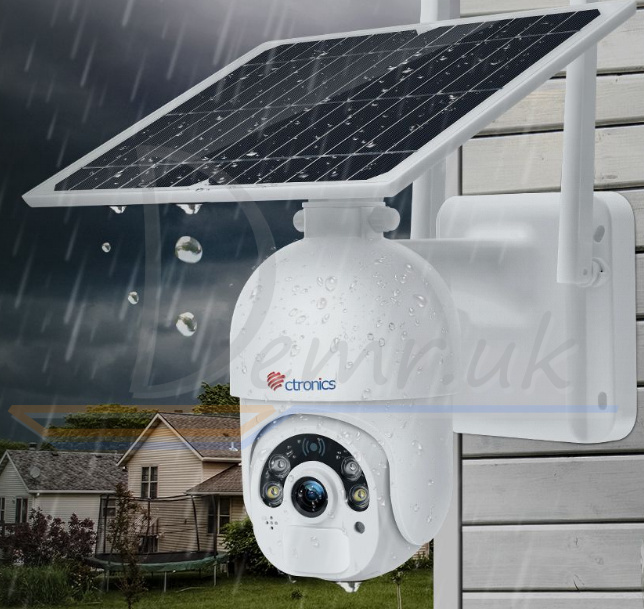 Benefits of Ctronics S20 IP Camera
✓ PIR & Radar Dual Detection: The outdoor security camera wireless uses a highly sensitive PIR motion sensor and radar detection to double the control and reduce false alarms, quickly waking up in 0.2 seconds and steadily capturing all human movements, significantly reducing false alarms caused by rain and insects, etc. Enhanced protection of your property and sends timely and accurate alerts.
✓ 355° Pan 90°Tilt & Two-Way Audio: Thanks to the intelligent 355° Pan 90°Tilt, it allows you can remotely control the rotation of the wireless solar security camera outdoor to watch every angle by your smart phone. Never miss any details. With built-in microphone and speakers allow you to better communicate with your family or friends anytime, anywhere.
✓ Color Night Vision & IP66 Waterproof: This outdoor wireless security camera has two modes of night vision: Colored and IR night vision. With dual light source design and 4 floodlights & infrared lights, this home security camera can show you vivid color image in total darkness. The security outdoor camera is equipped with an ip66 rated weatherproof outer casing, designed to operate the ptz cctv camera even in extreme weather conditions.
✓ 14400mAh Rechargeable Battery & 100% Wireless: This Ctronics outdoor solar security camera built-in 14400mAh batteries, last for 4 weeks continuously use or 12 weeks on standby. Beside, The solar panel can provide non-stop solar power for the outdoor security camera day or night, sunny or rainy. With rechargeable battery, it allows you no need any annoying wires for the ptz outdoor camera. 100% wire-free. Low battery notification and indicator on the solar security camera.
✓ Support SD Card Storage & Remote Access: this solar outdoor security camera only support by APP" Ctronics", also support up to 128G SD card. And you can view the solar powered security camera remotely via smart phone no matter where or when you are. This security outdoor camera only support IOS/Android systems, only support by 2.4G wifi, don't compatible with NVR. This solar security camera outdoor give you full protection.

Read more about Ctronics S20 (reviews, specifications, buy):
5.

Ctronics 2021-01FU-4-42239 Solar Powered Smart Camera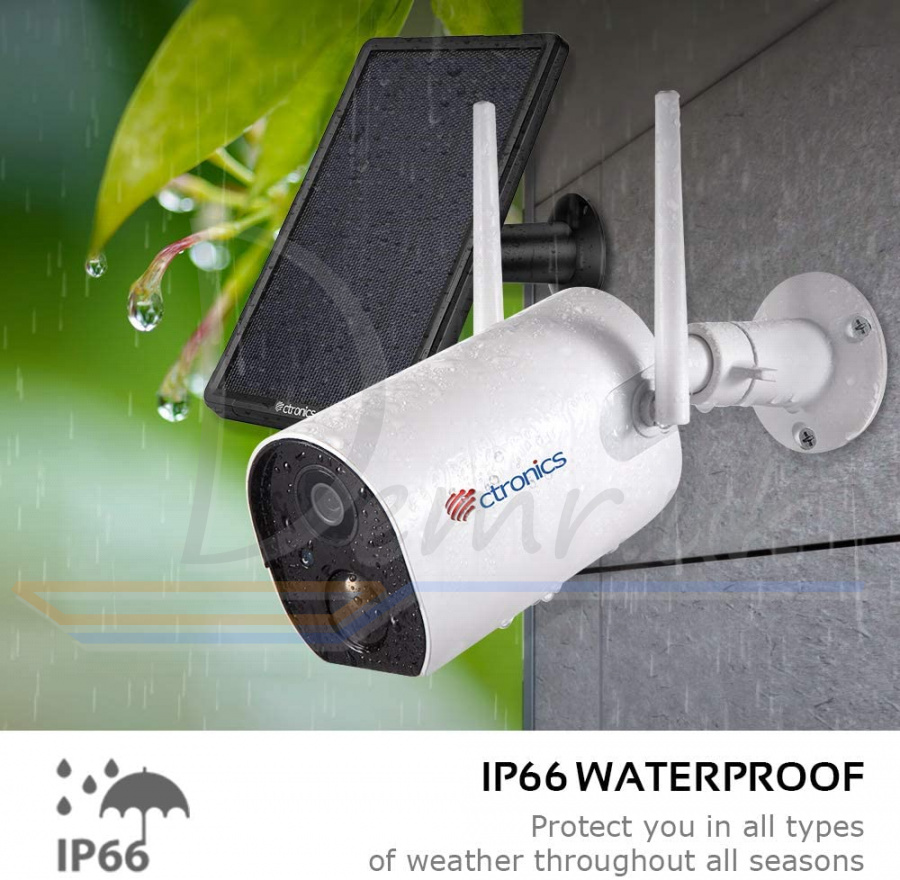 Advantages of Ctronics 2021-01FU-4-42239 IP Camera
✓ 1080P HD & Superb Night Vision Effect. The outdoor camera lens is 3.6mm, displays a clear image with a 130° wide viewing angle. There are 4 infrared led lights to capture a sharp image up to 20 meters at night. Intelligent IR-CUT switch ensures clear images day and night.
✓ Two-way Audio & PIR Human Detection. With built-in microphone and speakers allow you to better communicate with your family anytime, anywhere. When humanoid detection function is turned on, and the humanoid contour in the picture is analyzed. The smartphone will receive the identification of the intruder and push the alarm information in time. If there are any other objects such as insects, rain, wind, it will not alarm.
✓ 4DB External Dual Antenna & Waterproof IP66. The outdoor camera supports 2.4G WiFi, using dual antenna design, the signal is stronger and more stable. No need to worry about the home security camera disconnecting in use. The wireless security camera is not only made with waterproof material, but the card slot is also specially designed at the bottom to better resist wind and rain.
✓ Compatible & Support SD Card Storage. Supports Android 4.0 and up / iOS 7 and up mobile devices, with remote real-time monitoring. Supports micro-SD card (up to 128GB) storage and cloud storage (this camera does not come with an SD card).
✓ 10400mAh Rechargeable Battery Camera & 2400mAh solar panel. The ctronics new rechargeable security outdoor camera comes with 10400mA built-in batteries, last for 4 weeks continuously use or 12 weeks on standby. this outdoor security camera allows you don't charge frequently and can be charged with USB cable or optional solar panel. Permanent power supply is guaranteed.

Read more about Ctronics 2021-01FU-4-42239 (reviews, specifications, buy):
6.

ieGeek Solar ZS-GX2S Solar Powered Wi-Fi IP Camera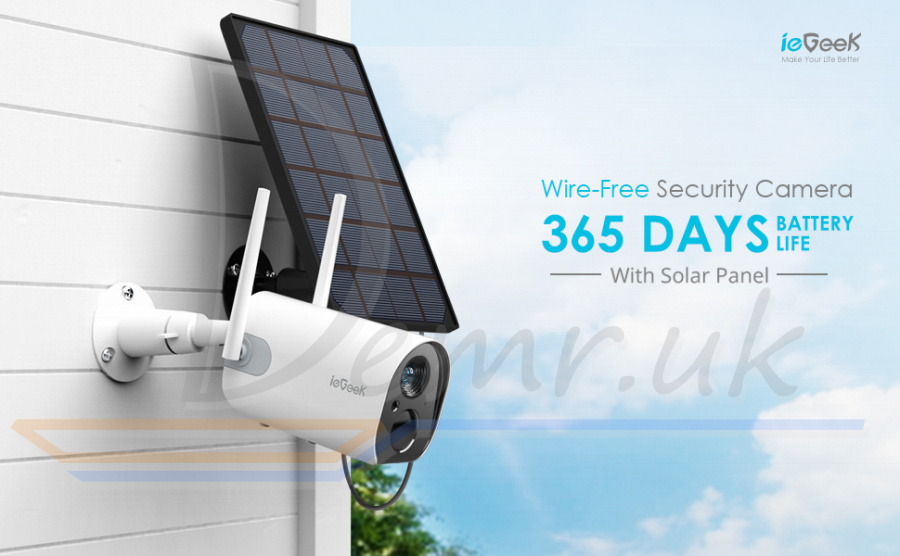 Benefits of ieGeek Solar ZS-GX2S Smart Camera
✓ Smart PIR Sensor & Real-time Notification Alert. Outdoor ip security camera with AI Smart algorithms significantly enhance human recognition to reduce false alarms. Built-in photo-diode allows you to receive real-time motion alert on mobile phone within 0.2s-5s. Compared to other outdoor security camera, the speed of detection recording and alerts is increased about 50%. Wherever you are, real-time alert notifications can be pushed to you and users you share.
✓ Safe SD Card&Cloud Storage&Data Encryption. ieGeek wireless CCTV camera supports 2 way to store your videos. Micro SD cards ( Not Included & Support 2GB-128 GB) is convenient and affordable. Cloud storage is more private and having more storage space. Either of which encrypts your data with bank-level to protect your recordings and remote access.
✓ Solar Panel&Rechargeable Battery Powered&Stable Wifi Connection. Built-in 10400mAh rechargeable batteries and external solar powered panel guarantee the cctv camera wireless outdoor eternal power. With 2.4G 4dbi dual Wi-Fi antennae, network reception is stronger 70% than other wifi security cameras.The recommended distance for router is up to 196ft(60m). The thickness of wall also effects wireless signal strength.
✓ 1080P Full HD & 65ft Night Vision. Solar powered security camera is equipped with the newest HiSilicon high-end chip and SONY 1/3CMOS colour sensor, which provide the best stability and clarity images and videos at day time. 4 IR lights automatically sense the environment light and switch to night vision mode. Night vision distance is up to 65ft/20m. The monitor distance is up to 43ft/13m. The 130° wide-angle allows you to monitor any corner.
✓ 2-Way Audio & IP65 Waterproof & 2 Years Warranty. Wireless security camera outdoor has a built-in microphone and speaker, which provides 2-way high-fidelity conversation all the time. IP65 waterproof can work under heavy rain or sun exposure. The standard operating temperature is from -13°F to 140°F (-25°C to 60°C). 2 Years warranty by professional technology team. Any question, contact us at anytime.

Read more about ieGeek Solar ZS-GX2S (reviews, specifications, buy):
---
Demr.UK is a participant in the Amazon Services LLC Associates Program, an affiliate advertising program designed to provide a means for sites to earn advertising fees by advertising and linking to products on Amazon.com. Amazon and the Amazon logo are trademarks of Amazon.com, Inc, or its affiliates.
---