Top 3 Best 3G/3G Smart Wireless Security Cameras 2023
1.

Ctronics 3G/4G+PTZ+SP Smart IP Camera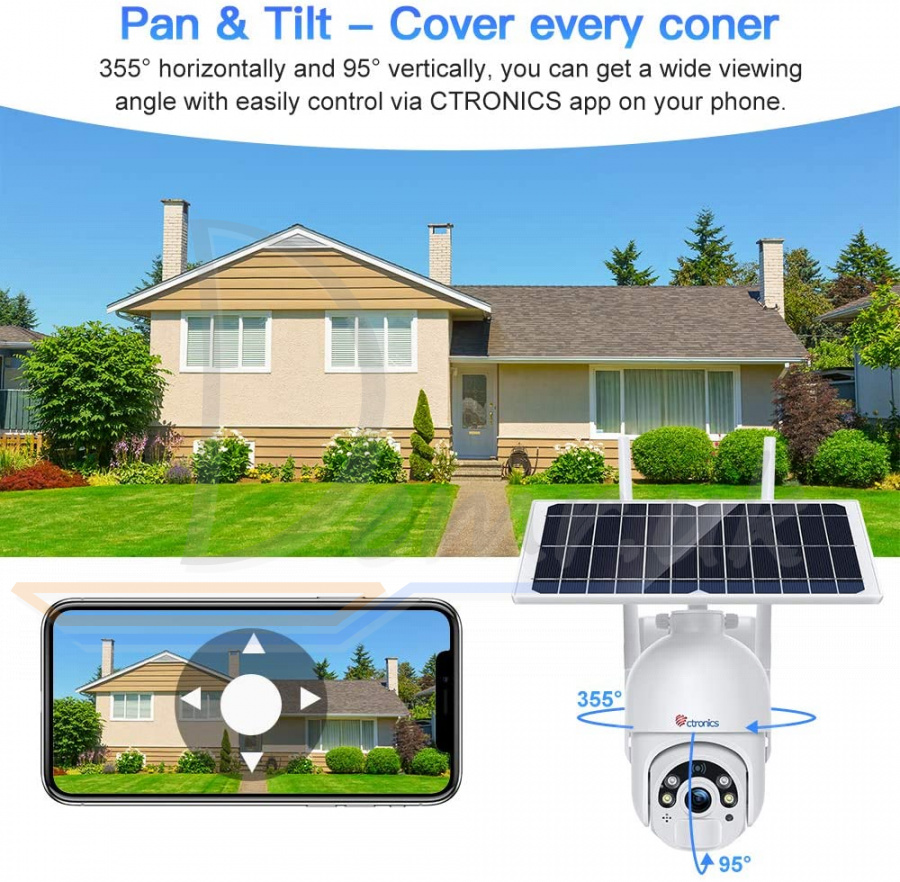 Main benefits of Ctronics 3G/4G+PTZ+SP Smart IP Camera
✓ 3G/4G-LTE Connectivity. The Ctronics solar outdoor security camera is supported by a 4G-LTE or 3G network. No Wi-Fi is needed, and as such, there are no wiring hassles. This CCTV camera can work in any outdoor environment, such as the front door, backyard, garden, driveway, porch, etc., or even in the wild. An extra Nano SIM card (not included) with a cellular data plan is all that is needed.
✓ PIR & Radar Dual Detection. The outdoor wireless security camera uses a highly sensitive PIR motion sensor and radar detection to double the control and reduce false alarms. It quickly wakes up in 0.2 seconds and steadily captures all human movements, significantly reducing false alarms caused by the rain and insects. It also enhances the protection of your property by sending timely and accurate alerts.
✓ 355° Pan 95° Tilt & Two-Way Audio. Thanks to the intelligent 355° pan and 95° tilt, it allows you to remotely control the wireless solar security camera's rotation so you can watch every angle with your smartphone. The built-in microphone and speakers never miss any details, allowing you to better communicate with your family or friends anytime, anywhere.
✓ Supports SD Card Storage & Remote Access. The "Ctronics" App supports the battery security camera, and it also supports up to a 128G SD card. You can view the solar-powered security camera remotely via smartphone, no matter where you are. This CCTV camera outdoor supports IOS/Android systems and supports Vodafone, T-Mobile, O2, Orange, SFR, etc. It does not support LAN or Wi-Fi and is not compatible with NVR.
✓ 14400mAh Rechargeable Battery & Solar-Powered. This Ctronics outdoor solar security camera has built-in 14400mAh batteries that last for four weeks continuous use or 12 weeks on standby. Also, the solar panel can provide non-stop solar power for the outdoor security camera day or night, with sunshine or rain. 100% wire-free - as it comes with a rechargeable battery, there is no need for any annoying wires with the PTZ outdoor camera.

Read more about Ctronics 3G/4G+PTZ+SP (reviews, specifications, buy):
2.

Reolink Go PT+SP IP Camera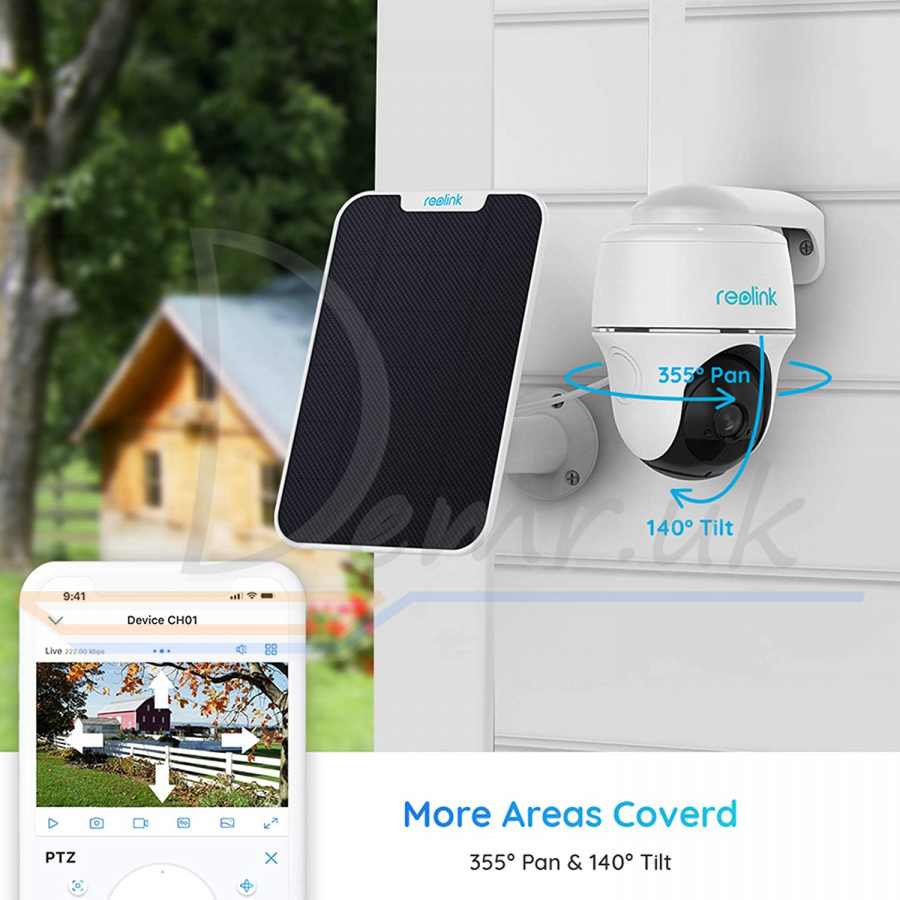 Benefits of Reolink Go PT+SP IP Smart Camera
✓ 2-Way Audio and Remote Live View and Playback. A 16GB Micro SD Card is included for local storage. View Live streams or recorded motion videos to stay tuned via Reolink App/Client anywhere and anytime. Press the talk button to listen and speak interactively.
✓ Pan Tilt and Color Night Vision. With 1080p Full HD and 355°Pan and 140°Tilt, Go PT lets you control pan remotely in App/Client to monitor every area of the room. Thanks to Starlight CMOS Sensor, it can capture stunning and sharp videos in the daytime as well as in the dark.
✓ PIR Motion Detection and Smart Alarms. Highly sensitive PIR motion sensor with PIR schedule and sensibility adjustment offers almost no false alarms. You receive instant app push notifications, email alerts, sound alarms and your own created alert message when motion events are detected.
✓ 3G/4G-LTE Connectivity. Outdoor security camera with 4G mobile network, solar panel and wire-free design, it is ideal for indoors and outdoors with limited internet or no WiFi access. An Nano SIM card with a cellular data plan is necessary.
✓ Rechargeable Battery or Solar Powered. With a rechargeable battery, this camera can be charged by universal 5V 2A phone adapter or Reolink solar panel for continuous power (Solar Panel is included).

Read more about Reolink Go PT+SP (reviews, specifications, buy):
3.

Reolink Go+SP IP Smart Camera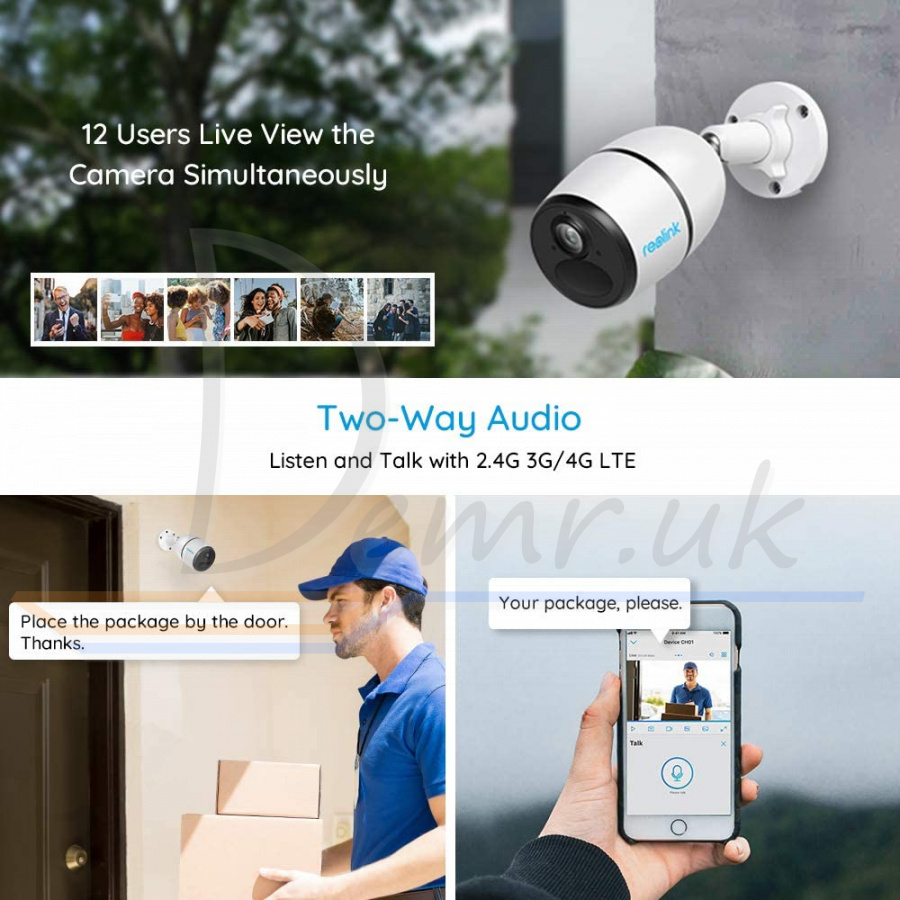 Advantages of Reolink Go+SP Smart IP Camera
✓ 1080P Full HD, Starlight Night Vision. 1080P Full HD and 110° wide field of vision. With the advanced starlight technology 2 megapixels Starlight CMOS Image Sensor, this wireless camera captures even the smallest details in very low light conditions.
✓ Smart and Instant Motion Alerts. You can receive instant app push, email alerts, 75dB siren, customized sound alarms and micro SD card recording (micro SD card is NOT included), when motion events are detected by the highly sensitive PIR motion sensor.
✓ 4G-LTE or 3G Networks Anywhere. Reolink Go, a 100% wire-free mobile cellular security camera, operates on 4G-LTE or 3G networks. Needs a cellular data plan or a LTE sim card to work together (SIM Card is not Included).
✓ Reomote Access,2-Way Audio. You can remotely access the camera anytime and anywhere to see, hear and even talk to your families or postmen. Operating multiple devices on the same app and multi-user sharing are also available.
✓ Rechargeable Battery or Solar Powered. With a 7800mAh rechargeable battery, this wireless camera can get long lasting power per charge via Micro USB, or Reolink Solar Panel (included).

Read more about Reolink Go+SP (reviews, specifications, buy):
Read also
▶ How to use Reolink Go Camera. Specification, Installation...
---
Demr.UK is a participant in the Amazon Services LLC Associates Program, an affiliate advertising program designed to provide a means for sites to earn advertising fees by advertising and linking to products on Amazon.com. Amazon and the Amazon logo are trademarks of Amazon.com, Inc, or its affiliates.
---